To the end of Learís Cannon Walk
We walk on along the Cannon Walk to the Cannon in Kanoni. In Lear's time it was the standard walk for the British. He wrote: "Last Sunday I insisted on not pottering to the one-gun battery - which is like walking up and down Rotten Row." Hotel and houses have now been built on the Kanoni peninsular but its treasures are there to be found. The view across Garitsa Bay to the Old Fortress was captured by Edward Lear. Now we can linger longer, whether it is for coffee or lunch.

Garitsa Bay
We look back across the Bay to the Old Fortress in 1910 along the Promenade walked by Lear; prams are pushed, no cars are parked. Further on we see where he made this painting in 1856. At the end of the bay there is the Stone Mill of Anemomylos. Locals swim here year-round. Join them. What a view! Or pop into Nautilus for a Poikilia Thalassinon, the Greek Fruit de Mer: sardines, crab cakes, kalimari, white fish, prawns and octopus.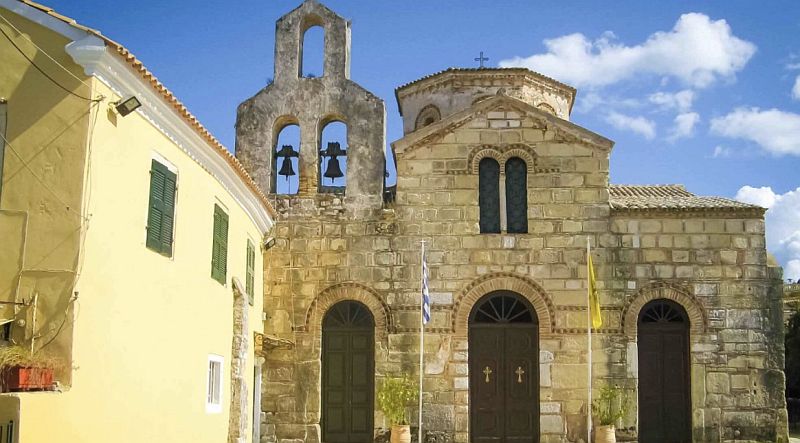 Jason and Sosipatros
The church is dedicated to the two Saints, students of St. Paul, who were the first to teach Christianity to the inhabitants of the island in the 1st century AD. They were imprisoned. The tortures suffered by the two Apostles, moved the daughter of the ruler of Corfu, Kerkyra, to embrace Christianity. Both Apostles were thrown into an iron cauldron, where there was tar and resin. Jason came out unscathed, while Sosipater succumbed. Kerkyra sold off all her jewellery, and gave the money to the poor.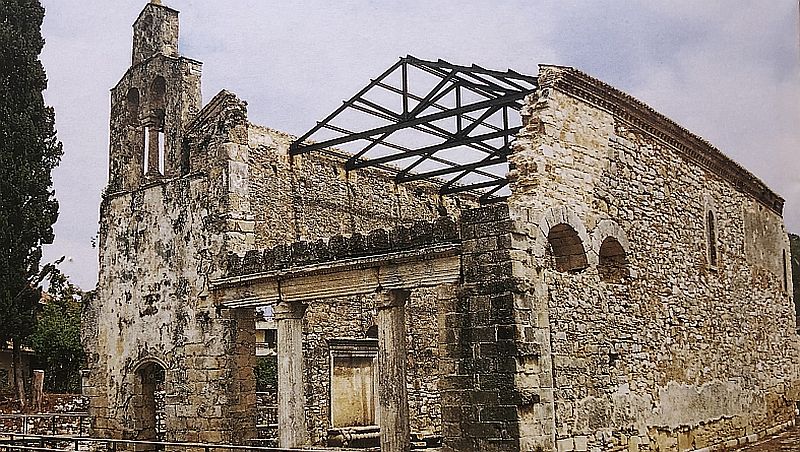 Paleopolis
The Christian Basilica of Jovianus in Paleopolis dates back to the first half of the 5th century and is opposite the entrance to Mon Repos. Paleopolis literally means 'old town'. The original city was founded in the 8thC BC by Dorian Greeks from Korinth. It was discovered during excavations that were taking place in 1843, in which a whole city was revealed. Where the airport now sits was once the harbour of the ancient city.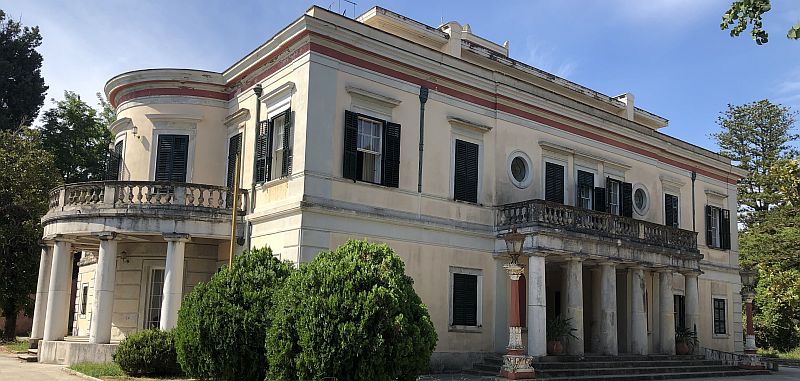 Mon Repos
Mon Repos Palace was built in Regency style in 1831 on 258 acres of fertile land as the summer residence of Lord High Commissioner Sir Frederick Adam to fulfil his beloved wife, Nina Palatianos' dream of living in a palace in the countryside. Prince Philip was born here in 1921.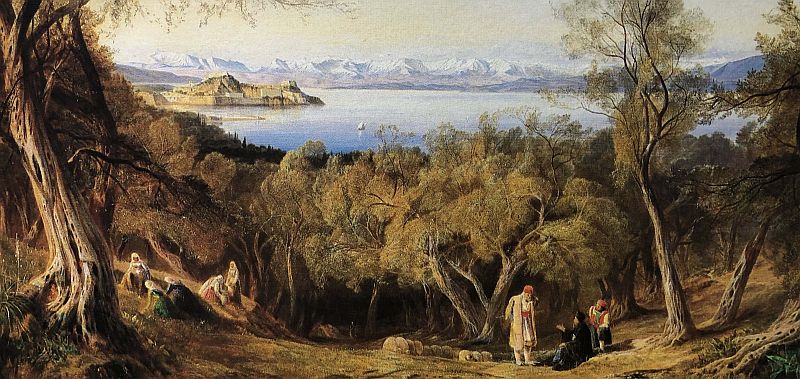 Analypsis
We look for where Lear painted the Old Fortress beyond Mon Repos. Note Anemomilos, the stone windmill, jutting out in line with the Old Fort. From the open area in the village of AnalIpsis we take our photo with Mon Repos in the foreground. Lear wrote much about his favourite location at Analipsis: "How beautiful is that village of Analipsis, with its scattered sheep and lambs, and the little cottages, with kids and calfs round the door."

Kanoni
To the left is the South of Corfu and Lefkimmi, from where we start walking with Edward Lear on the Corfu Trail. In the centre is Benitses with Stavros in the Centre of Corfu. The British built a road to Palaiokastritsa on the West Coast plus the aqueduct from the hills behind Benitses to town. Lefkimmi, the second town on the island, is 40km away. We will see where Lear painted. "Then I walked on till I came to the Kanoni cliffs, where you see the little island called Ulysses' ship." This is Mouse Island with Vlacherna Monastery nearer shore. "You see hills of Benitses above them and I hardly fancy a prettier picture than the two make together."