Central Corfu - Picturesque villages amongst hills
Lear's painting from Stavros (above), the one on the home page from Gastouri and that from Ano Pavliana illustrate the lovely landscape of Central Corfu. Visit these villages, our Sinarades and others inland; all are treasures. All can be accessed by bus from nearby Corfu Town and are away from mass tourism on the beaches. Many have village squares and a café or taverna, which offer true Greek hospitality.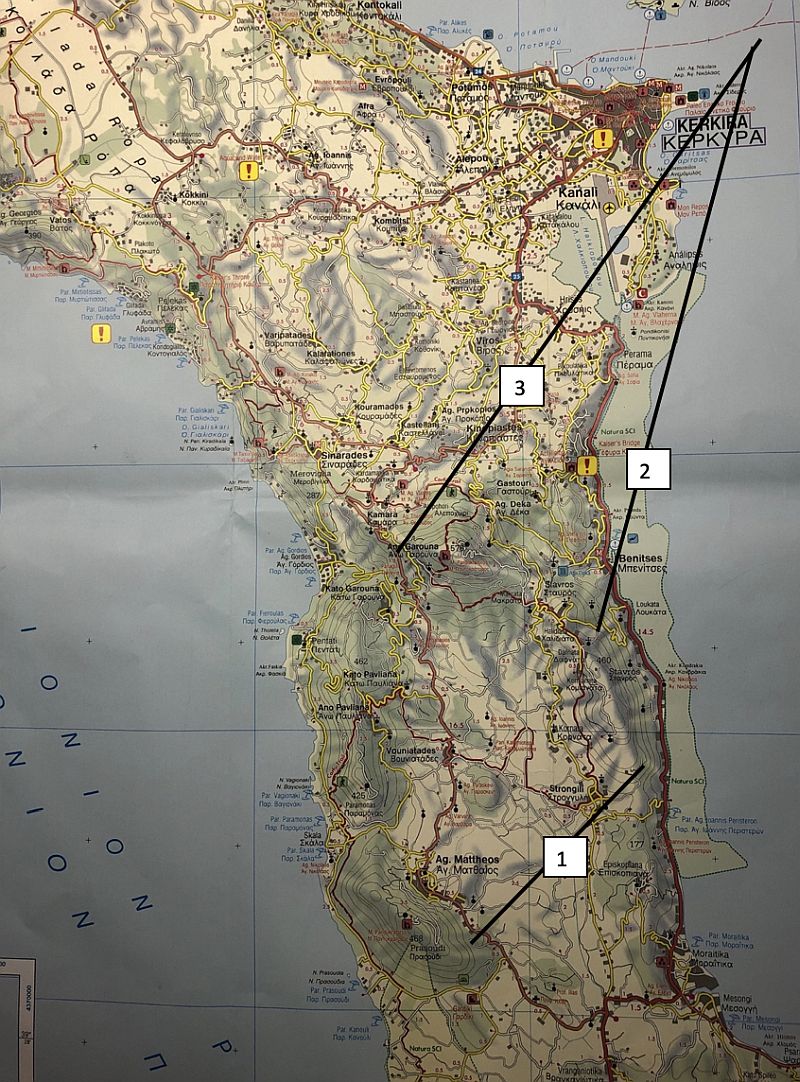 1. Agios Mattheos from Strongili - 2. Stavros to Town - 3. Garouna to Town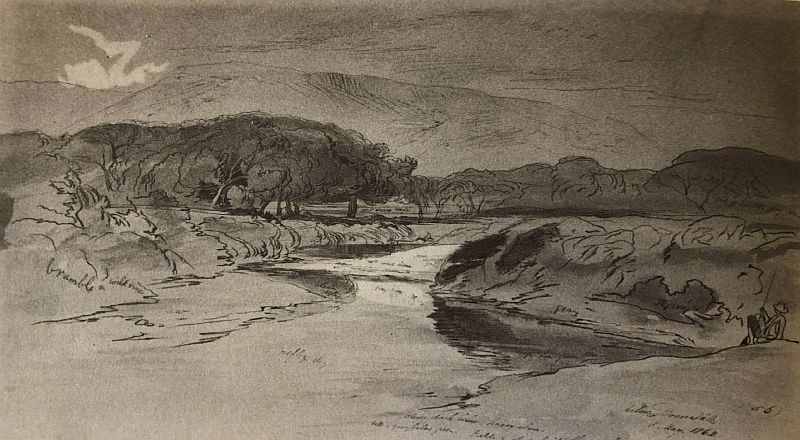 Below Vouniatades from Strongili
Lear May 5 1862: "Strongili Rose at 5. Across the olive woods but it soon poured down torrents of rain. We walked up to Vounitades and on to Ano Pavliana by a difficult track and one so slushy and steep I could hardly manage. Then to Strongili at 5. Then it rained a good lot and afterwards I drew from the window" of the house, in which today there is a museum to Gerasimos Markoras.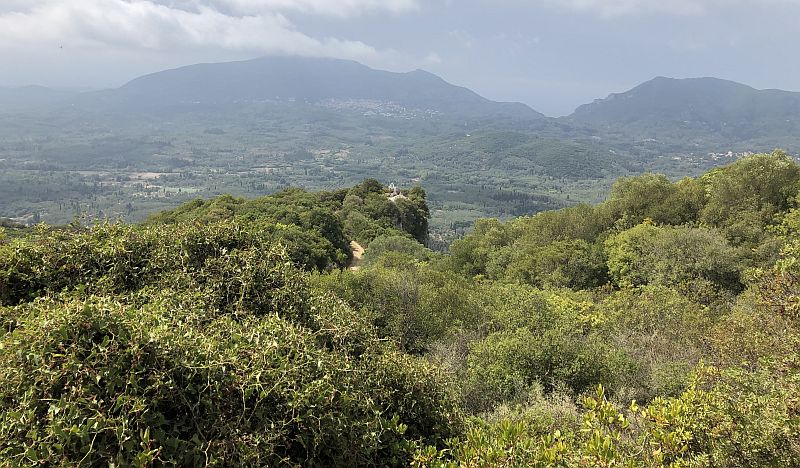 Agios Mattheos from Strongili
Lear wrote: "By 8, we reached Aghios Matthaios (from Strongili), a finely placed village. The Head Police gave me a peasant to guide me, first, to Pantokratora, a monastery high up. A very pretty and hot pull! - and welcomed with a cup of coffee and some raki: after which I drew on a higher point still – the view of Lefkimmi, Albania, and other 'islands' very beautiful. We got down to Aghios Mattheos at 12, and then had eggs and beans at the stathmos. At 1.30 set out again" to Gardiki Castle.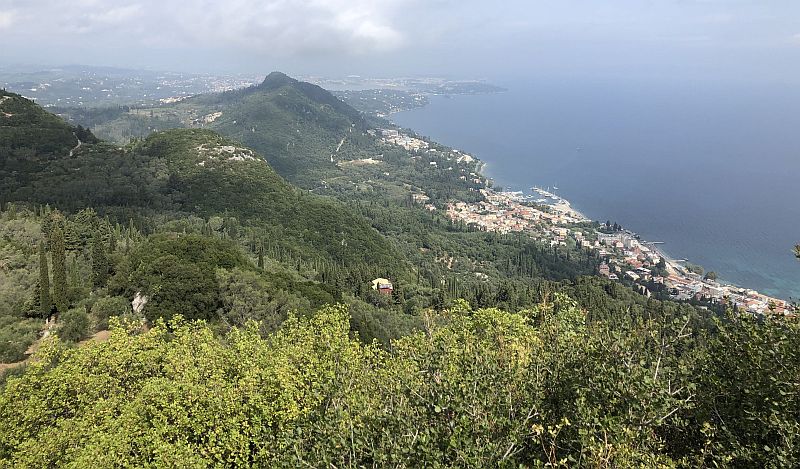 Stavros
Kostas in his bar at Walker's Point in Stavros tells us where to go to see where Lear painted "The quiet and discrete boy of Stavros" on May 4, 1862. Below the bar is Benitses where mass tourism has evolved to niche tourism with its marina, quality restaurants, local walks and spa hotel.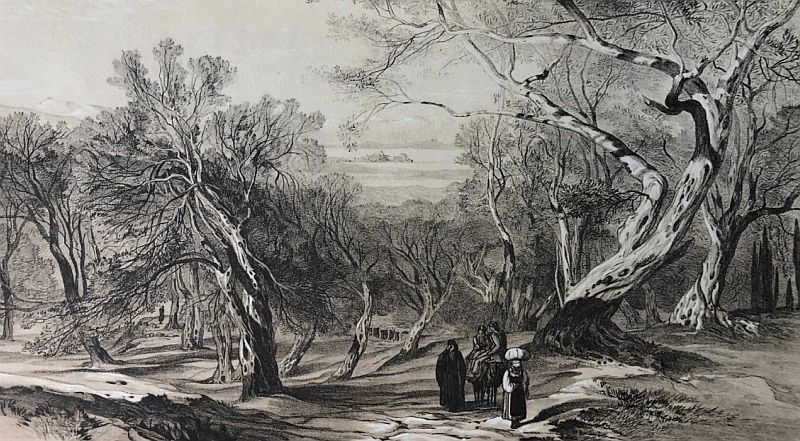 Agii Deka
Lear wrote of Ag Deka 1848: "I wish I could give you any idea of the beauty of this island - it really is a Paradise. . . always the Citadel and the lake, and the straights with the great Albanian mountains beyond." Our photo is from the road before the village. Aretis Place in the village could help in your treasure hunt.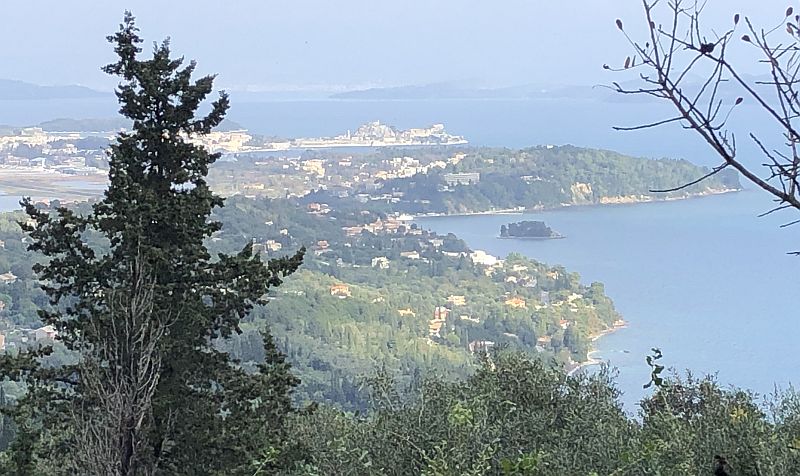 Gastouri
400 metres before the Achillion Palace turn right before Elia Taverna down the Old 'Benitses Road'. After 850 metres the road rises to overlook the sea on the left. After a further 100 metres round a right-hand bend, a path on the right ascends to the Holy Church of Agia Kyriaki. Lear painted from up the path. He wrote: "The beautiful slopes of olive wood seem to end in the church-crowned Promontory of Ascension (Analypsis); but this is not the case, as the lake of Chalichiopulo is between the end of the "One-Gun Battery" and the olive slopes.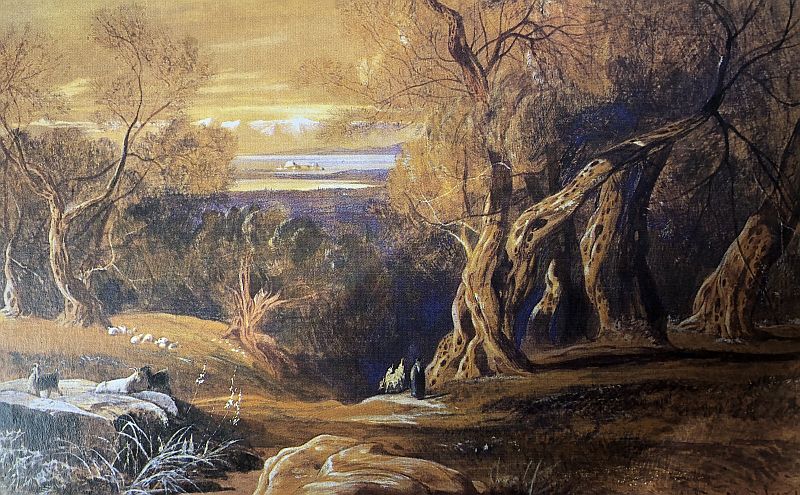 Garouna
"I walked to Garouna - a high hill quite on the west of the island - where there is a beautiful view of the Citadel and city & the channel. Oh dear! How beautiful the olives are - like a great film or veil all over the country." Edward Lear January 1856. From Town, turn left to Ano Garouna, look left after 100m. Lear painted from this place.