From Market to Town
Behind us in the distance we see the Cruise Ship terminal. Their passengers are told to walk twenty minutes to the Old Town along the sea front. Instead we walk to the market with its fresh fish and fruit and vegetables, then through narrow Venetian streets behind the New Fortress. We pass by the Jewish Quarter, where artisans once worked in small shops. Sadly, the area suffered bombing in World War Two. Thankfully, the original streets remain with no high-rise building. Tourists, workers and residents can find tavernas and cafés along the car-free lanes.

Road to Market
On our left is the great western wall of the New Fortress. At the first corner we see the Lion of St. Mark and on the second we can see Avrami Hill, where in 1798, the Germans mistook their co-defenders the Slavonians as Turks and killed 200. We have a fish meal with our friend who owns the café.
New Fortress
We go through the Porta Stoppa tunnel to the New Fortress, which is considered the most well-preserved fortress complex in Greece, and climb to the top to view across the old town to the Old Fort and to the north to Angelokastro Fort, uncaptured by the Turks.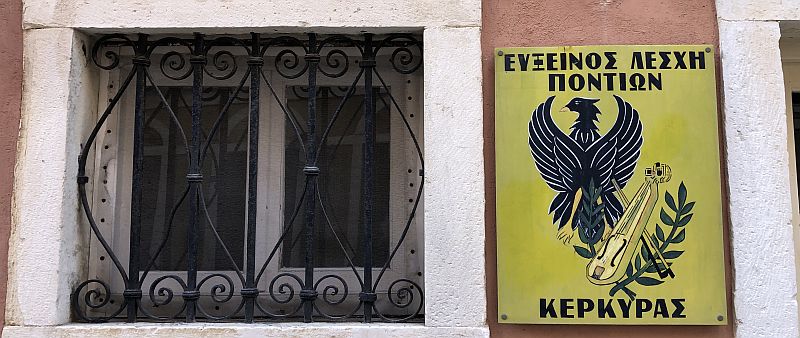 Tenedos Church
The monastery was built in the 15th century by the Catholic monks of Tenedos, an island in the north eastern Aegean at the entrance to the Dardanelles, who left their homeland for Corfu when it was occupied by the Turks, who captured Constantinople in 1453. Before we turn left to see the lower gate of the New Fort there is the meeting place of Pontic Greeks from which strange, sad music comes. Today the major settlement of North Pontic Greeks, Mariupol in Ukraine, with 22,000 Greeks, has been destroyed in the war.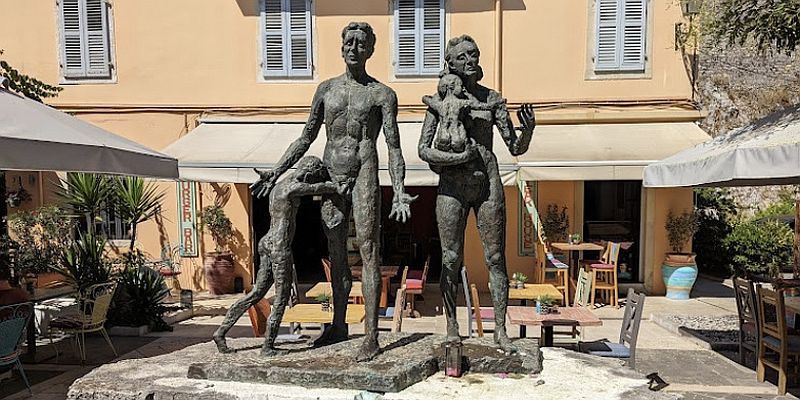 Jewish Quarter of Corfu
The bronze statue of the Holocaust Memorial stands on a stone plinth in front of the walls and lower entrance of the New Fortress in the Jewish Quarter of the Town. This poignant Memorial is entitled "Never again any Nation". The small plaque at the base of the Memorial says: "Dedicated to the 2,000 Jews of Corfu that perished in the Nazi concentration camps of Auschwitz and Birkenau in June 1944."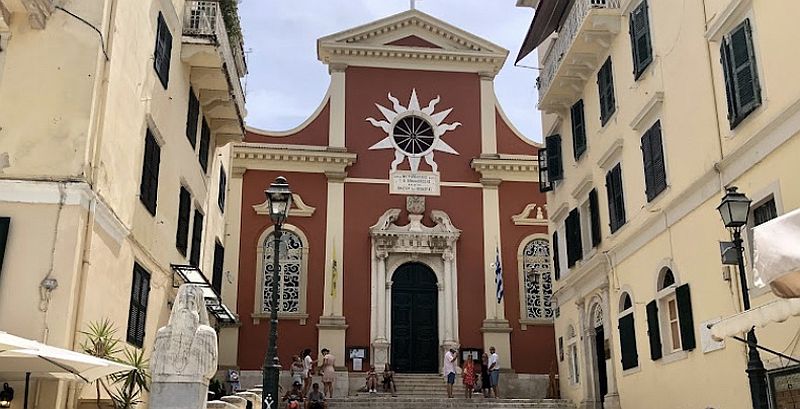 Metropolitan Church of Corfu
The church was built in 1577. The silver shrine with the holy relic of Agia Theodora, the Byzantine iconostasis of the church and a series of great hagiographies of the 14th and 15th centuries are remarkable.We go through the narrow Venetian style alley Ypapantis on the edge of Campielo, the original Venetian style Old Town. At the end is Edward Lear's House.